Use your honeymoon registry to add a host of unforgettable food and drink experiences to your upcoming getaway. From romantic dinners with a view to poolside cocktails, here's our list of must-add dining and drink options to include on your honeymoon itinerary.
Sunday Brunch
Whether you prefer buttermilk pancakes or made to order omelettes, don't miss out on an unforgettable spread at your hotel or destination.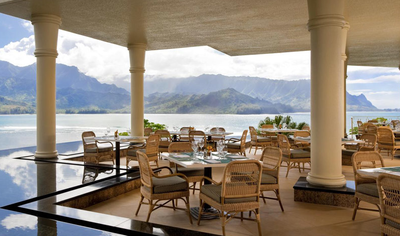 Photo courtesy of St. Regis
For example, the Sunday Brunch at Makana Terrace at the St. Regis Princeville features a carving station, hand crafted sushi, and specialty omelettes, among many more options. With panoramic views of the lush mountains of Kauai, this oceanside dining experience is truly spectacular.
Sunset Cocktails
Whether poolside, at the hotel bar, or around town, mojitos and pina coladas will be memorable just about anywhere. But a drink will be even more special if there's a premium view of the day's sunset.
Cheap Eats
We guarantee that your friends and family will get a thrill at gifting you interesting foodie experiences like roadside stands, food trucks, diners, and other impromptu stops along your journey. Some of the most delicious, authentic meals derive from these spots.
Nightlife and Shows
Be sure to add this category to your registry if you're planning to attend exciting events such as luaus, concerts, jazz clubs, and dinner shows.
For instance, the Old Lahaina Luau on Maui is one of the most authentic luau experiences honeymooners can find. In addition to its gorgeous waterside setting, the luau includes an excellent Hawaiian feast and bottomless Mai Tais.
Romantic Dinners for Two
This is a popular gift item among family and friends — and it's easy to see why. Whether at an acclaimed steakhouse or upscale bistro, a romantic dinner will be remembered forever. Truly a must for every couple's registry.
Room Service
Hoping for a late night snack or maybe just breakfast in bed? Make a honeymoon moment by adding room service to your registry.
In case you missed it:
POLL: Which Island Would Be Your First Choice for a Hawaii Honeymoon?